Ginger Beer bottle circa 1910
With thanks to Jim Boyd, Raynham, MA
Many thanks to Ken Carpenter for his contribution, below right, of a can of 'Hell Bier", acquired in Italy, Fall 2006.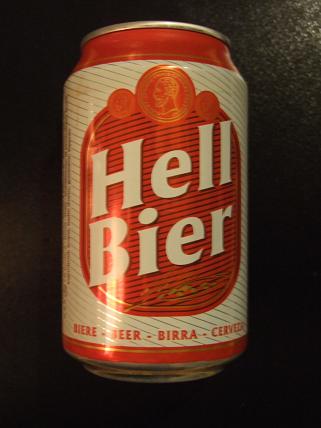 for fans of the 70's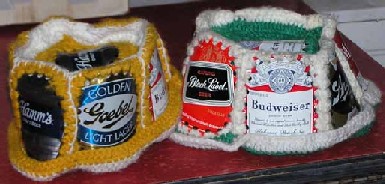 classic crocheted hats at the museum
Thanks to Larry Alterman for some great Asian currents, received in March 2005!

Thanks to Paul Hilton and his family for a fantastic new (inscribed even) Beer Memorabilia book, presented to the curator at ETBCMfest 2003!
Thanks to Margie and Mark Vincent for a great new Olympia 7 oz. mini can - donated at Museumfest '04!
Beer Can Biplane Makes Landing!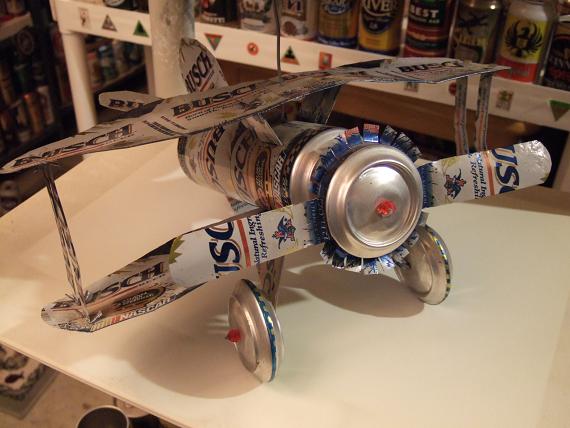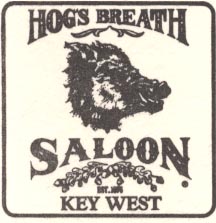 The museum prides itself on exhibiting a wide selection of breweriana from around the world. The year 2005 has been a banner year for our acquisitions department!
Thanks to Laura Scott for stealing that great Illini Beer can (circa 1981) from brother Brett's room (see picture above!). Does Brett know about this felony Laura? The last thing the museum needs is a lawsuit!
On June 11, 2001, the museum added a new 'Coasters Round the World' piece to the collection. This beautifully framed, 11 by 14, selection of classic coasters from around the globe is located to the left of Big Mouth Billy Bass!

In July 2001 we added a Guinness Bar Towel donated by Laura Sinton. This great addition to the collection came all the way from Ireland and the brewery itself. Thanks, Laura!
(Update: October 2001- Laura and husband Josh (congrats!) just returned from their honeymoon. In between romancing and bungee jumping (I'm serious here!) they found time to sample some local beer from cans up on Vancouver Island. In 2003 a new pub towel from the Montreal Beer Museum was hung from the rafters to join the Guinness Towel! It's starting to look look the old Boston Garden in here!

Thanks go out once again to Marc Bakker in the Netherlands (there, it's fixed, are you flooping happy Marc?!), for fantastic contributions of placemats and vilts from the Netherlands! Also
a great deck of cards received Christmas 2004!
2002-Peter Loucks of Austin donated some great Texas commemorative cans, Tom Brannlund sent a great box of Swedish cans, and Paul Hilton gave the curator a fine Schlitz beer mug/lamp, which now lights a cozy corner of the museum.
In 2004 Frederick Pope donated some fine breweriana including cans, tray, signs, and more! Thanks!
2005 has brought many new additions already- including a new DVD/TV combo on which the classic beer commercials DVD runs during tours! Good times indeed.