"Arrayed in kaleidoscopic precision, a sea of painted, weathered metal, these little steel and aluminum vessels are a wonder to behold".

The Boston Phoenix on the East Taunton Beer Can Museum

"A hidden gem" - Associated Press

"Art worth holding on to!" - Travel & Leisure Magazine (November 2013)

"The Man with the Cans" (BostonChefs.Com)


HAPPY 88th BIRTHDAY, BEER CAN! (JAN.24,2023)

Visit the museum (and 'Like' us, of course) on Facebook! (link at bottom of page)

"One impressive collection" - WHDH 7News, Boston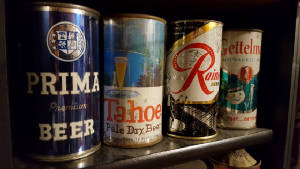 Beer Can Museum Collection
Welcome to the Beer Can Museum, South of Boston, as seen in Reader's Digest - and as seen on WCVB-ABC TV Boston's 'Chronicle' and on WHDH 7News Boston….and as heard on John Green's 'Mental Floss' and the Old Colony History Museum's Virtual Visits series. We are found at www.beercanmuseum.org. (and don't forget to LIKE our Facebook page) The Curator is available for hour long speaking engagements that include a pop up museum, as well as nostalgia, history, and door prizes!







The Beer Can Museum!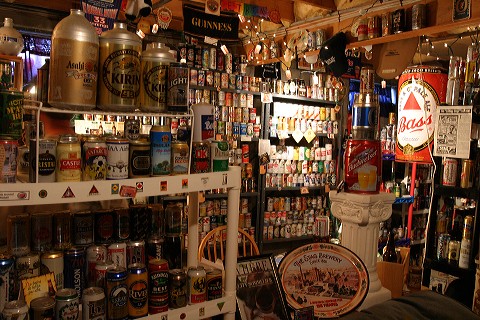 Joel Veak Photo

"No one is quite sure how many of these oddball exhibits exist, because many are set up in private homes, open by appointment only. Officially, the Institute of Museums and Library Services in Washington classifies them as "collections of curiosities," not educational enough to gain true museum status. But some academics are not so quick to dismiss them as random junk."

"There's something about bringing [ordinary objects] together as a collection that lets you see a phenomenon in a way you wouldn't otherwise.... And there's something about the relentless focus of really hard-core collectors that's impressive and intriguing in its own right," said Barbara Kirshenblatt-Gimblett, a professor at New York University who has written extensively about the interplay between food and culture.

"What the Museum of Modern Art does in classifying paintings by genre and period--that's the same thing that the Mustard Museum or The Beer Can Museum or the nut museum is doing," Steiner said. "Only, unlike modern minimalist art, these museums are dealing with something that everyone can relate to."

(The Los Angeles Times; Los Angeles, Calif.; Oct 11, 2002; Page 1. Stephanie Simon)

"An awe inspiring array".

The Boston Phoenix, June 2, 2005, on 'The East Taunton Beer Can Museum'


"Highly Recommended" - - - - Refugios Magazine on the East Taunton Beer Can Museum, Dominican Republic, January 2010

A Taunton flag featured on Iron City can!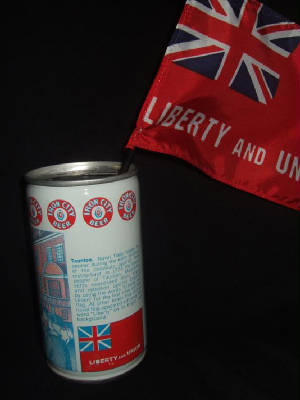 As seen on Chronicle (WCVB/ABC TV Boston)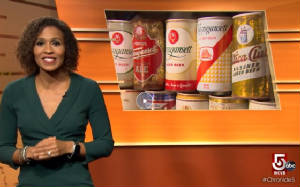 Fall 2023...
Greetings & Happy Fall from the Beer Can Museum! Hope you are all well, and I also hope you are enjoying some of the fine craft beers that are being brewed - and canned this season. Hope you were able to catch the Museum on 'Chronicle' recently - we were excited to welcome the team from WCVB's TV program to the museum for a tour and an interview with the curator! Thanks also to WHDH 7News Boston for a nice segment! We were also honored to be featured on Mental Floss recently - John Green (of 'Fault in our Stars' fame) hosts, and we were museum #20 on his list of Weird Museums! (link on Publicity page) Don't miss the Museum's recent write up in Travel & Leisure Magazine's online slideshow of America's Strangest Museums! Thanks go out to Joseph Chamberlain from Lakeville, MA for welcoming the curator into the home of his late parents to view a nice beer can collection - and for donating some of the collection of Joseph A. Chamberlain and Cynthia K. Parola to the museum. The Beer Can Museum was also mentioned in the Boston Sunday Globe - and our little role in Sam Adam's move to start canning their beer was revealed! Thanks to the folks at BostonInno.Com for a nice writeup recently! Thanks also to the Taunton Daily Gazette for giving us a great write-up, which the Associated Press picked up; the story ran in papers across the country and we've enjoyed some nice feedback. The museum also welcomed some documentary filmmakers from Australia recently; a fun time was had by all and some of our cans (and possibly the curator) may make an appearance down under later on this year. We've added a new link to our museum slideshow at the bottom of this page - enjoy the show. Thanks to San Francisco's John Graham - who donated a wonderful Burgermeister beer can music box in honor of his late Grandmother who loved 'Burgie'! (Picture below) Many new beer cans are making their appearances on the museum shelves. You can now follow the East Taunton Beer Can Museum on Twitter (@beercanmuseum) if you're into Tweeting. We're also on Facebook. "Like" our page today! Thanks to Reader's Digest for including our humble Beer Can Museum in a fun quiz on page 160 (May 08 issue) - and to the folks at 'Fortune' magazine, for the photo credit for a Generic Beer Can that they included in the August '08 issue. We also helped out Polish TV station TVN with their program "Dzien Dobry TVN" (Good Morning TVN); they are doing a segment on beverage cans and we sent them some images for use on the show! Enjoy your virtual tour of the East Taunton Beer Can Museum! Thank you to the Anheuser-Busch Archives & the Miller Archives for sending along some great pieces of breweriana for the museum! Recently the'Cambodia Daily' newspaper included some quotes from the curator on the hobby of collecting breweriana. 'The Cambodia Daily' is one of the truly free presses in that country (the government has threatened to shut them down in the past)and we were honored to be interviewed for a front page article on beer can collecting.
The second edition of"Massachusetts Curiosities" is in bookstores now and the Beer Can Museum is featured in a full page write-up. Thanks to Globe-Pequot Press for publishing this fine work - and thanks to Erik Sherman for thinking of us as he searched the Commonwealth for 'curiosities!'
You can now E-mail the museum curator at beercanmuseum@gmail.com .
(If you are a BCCA member or a museum contributor and would like a tour of the museum click on the 'contact the curator link and we'll talk) Now, on with the show.
We recently added some new selections to the Beer Cans in Literature Page. E-mail any of your own contributions for inclusion !
Life is good, at least in the insulated microcosm known as ETBCM!! Some days I'm so overwhelmed by the richness of life, ya know what I mean!?
Thanks to Los Angeles Times' writer Stephanie Simon for giving our fine museum a mention in an article on the Mount Horeb Mustard Museum in Wisconsin. The article was picked up by the Austin (Texas) American-Statesman, too, and as a result the curator has heard from many people across the country including collectors, wayward travellers, and people just wanting to check the value of cans found in their basements! FYI - The Beer Can Museum is located in a private residence and tours are by appointment only for museum contributors, members of the BCCA, and friends/family of the curator. Until I retire and have a separate space to call home for the museum, please enjoy the VIRTUAL tour.
Alumabottles or Cabottles - Go Red Sox!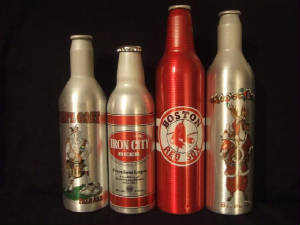 On a tour at Museumfest '08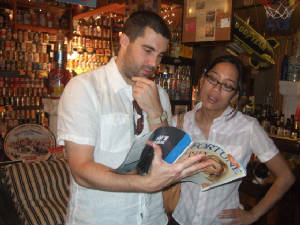 In honor of Pansy Spring - 1893-1983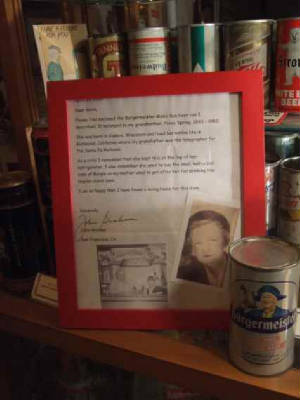 With thanks to John Graham, her grandson
Museumfest is our annual open house.

The first Museumfest took place in 2001 and attendees made a trek to McCoy Stadium in Rhode Island to watch the Pawtucket Red Sox. Museumfest 2002 took place on July 13th, '02. Brats, Beers, and fishing at Massasoit State Park made this day memorable to say the least. Museumfest 2003 took place on July 12th of 2003 and featured canoe adventures on Lake Rico and grilled s'mores! 2004's bash featured wiffleball, canoeing, and the horseshoe pit. Museumfest '05 featured horseshoes, an outdoor movie for the kids in the pool, and a record turnout. The '06 bash featured 'Bolo Golf'as well as another classic cake provided by Bob Lemieux! '07 featured more paddling adventures in Massasoit State Park, and '08 brought back the 'mist machine' by the pool and featured 5 V.I.P. tours. Museumfest '09 brought a record turnout and a trip to visit the Hallamore Clydesdales in Lakeville,MA. In 2010 we celebrated the 10th anniversary of Museumfest! 2011 was the year of the bouncy castle - a big hit! 2012 was bouncy castle redux and more! Door prizes are always a big hit and guests leave with commemorative cans, various pieces of breweriana, and more! 2014 brought a nice crowd, perfect weather, and some fine craft cans and brews from New England, The Midwest, and even some Indian brews! 2015 & 2016 were just darn good times! 2017 brought a record turnout (50+) and 2018 featured torrential downpours and a fantastic beer tasting in the museum! In 2019 attendees were treated to live music as the amazing vocal group 'Cotton Candy' sang classic beer jingles from the deck! It was pretty epic. 2020 brought Covid lockdown, but we still had a well attended MuZOOMFest, with special guests from the world of canning and beer can art!
Jim Boyd and his two sons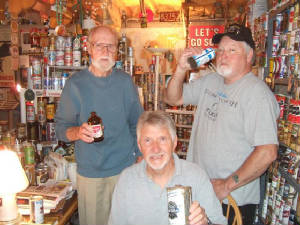 VIP tour, Sept. 09
1950's - Bud six-pack carrier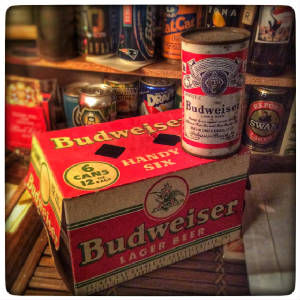 Get comfortable and enjoy a relaxing tour of the greatest beer can site on the internet. You have finally found the East Taunton Beer Can Museum! Life is good!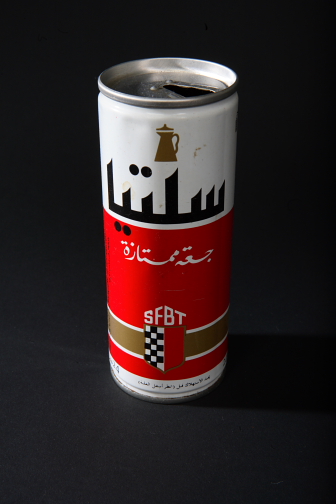 Our only Tunisian can! (Joel Veak Photography)
Fun Beer Can Museum Facts and Figures: Number of full steel cans from Papua New Guinea: 1. Number of cans featuring baseball great Roberto Clemente: 2. Number of coasters: Too many to count. Number of times a parrot has gone to the bathroom on the floor of the museum: 1. Number of beer glasses on the bar = approx 15. Number of times neighborhood kids have knocked over some portion of the collection = 8! Fun fact: The Beer Can Museum holds both a piece of the Statue of Liberty as well as a piece of Yankee Stadium (even though I'm a Red Sox fan)! Number of pub towels hanging from the rafters: 3. Hilda's salary-18K per year plus free admission (except on Thursday's when she pays half price!) She also gets 2 weeks vacation (not paid) when she goes searching for cans in remote countries across the sea. Hilda is the official ticket seller at the museum but doesn't show up for work much. Some say she's a figment of the curator's imagination but I say she's half of the museum staff and that's saying something. I guess.

Thanks to my gorgeous wife, Maryellen Logan, for not tossing these cans into the recycling bin week after week. She is the greatest!

Why do I collect beer cans? Fair question. Beer cans are pretty fascinating really. The Beer Can Archeology Museum might be a better name for my collection, since many of these cans tell stories about American and World History and their values at certain points in time. I have an extensive Bicentennial section, a sports wing, a huge foreign can section, and some cans dating back to just after prohibition. The designs of some of these cans show great creativity in some cases and showcase great athletes, actors (John Wayne Coors series), and patriots (George Washington, Sam Adams). You'll see just a few examples on these pages!

So sit back, pop open a can of beer and enjoy the tour!! Please Drink Responsibly. Even though I collect beer cans it takes me a good month and a half to go through a case of beer; so to answer the obvious question, NO, I didn't drink all those cans of beer!

Enjoy,

Kevin Logan, a/k/a K-Lo and Kevbo (your curator and tour guide)
Exhibit from the Beer Can Museum
Displayed at Gore Place, Waltham, MA in 2016
Cheers